In such a changing environment we get sometimes lost with so many theories and we get confused between what is right and what is wrong in business. The below list will be helpful in this regard.
WRONG: to always think big; RIGHT: Sometimes thinking small is better. Growth comes naturally when you do things right.
WRONG: To start the day without a plan; RIGHT: The today's task list must be ready since yesterday. Prepare it before sleeping or before leaving work.
WRONG: To recruit based on skills alone; RIGHT: To recruit based on values. You can teach skills but you can't afford to teach values.
WRONG: To keep looking for a new idea to start; RIGHT: To take any idea and make it better than anyone else. After all coffee shops are not that innovative.
WRONG: To stop marketing because of high budgets; RIGHT: To do smart marketing that costs less and makes bigger impact such as guerilla marketing (Google it)
WRONG: To find a luxurious location to start even if it costs a lot; RIGHT: Location is very important provided it suits your target market and fits the budget that the business operation can afford.
WRONG: To expand at any cost; RIGHT: To know when and how to expand.
WRONG: To keep the lawyer for solving problems; RIGHT: To engage the lawyer in every step to help you avoid problems.
WRONG: To avoid proper accounting so that no one knows your numbers; RIGHT: Proper accounting helps you read your numbers, analyze them and better make decisions to grow.
WRONG: To postpone technology until your business becomes big; RIGHT: You simply can't grow without proper use of technology.
WRONG: To recruit a salesman because you don't like to meet and sell people; RIGHT: Best performing companies started with their owners selling the products and services passionately.
WRONG: To risk your assets because high risk means high return; RIGHT: Can you afford to lose that house or that piece of land? Please take calculated risks and avoid future pains for yourself and your family.
WRONG: Get a silent investor; RIGHT: Silent investors vibrate. You need a smart investor to help you expand properly and always add value to your operation.
WRONG: To keep talking about your products and services in order to sell them; RIGHT: To keep listening for people and then match your products and services to their needs and desires.
WRONG: To produce a perfect job even if you cross the deadline; RIGHT: Deadlines must always be respected. Read the word again: DEAD LINE…never cross it!
WRONG: To stay busy and achieve tons of tasks; RIGHT: To stay productive and know what to delegate and what to avoid doing.
WRONG: To harass people with follow up;RIGHT: Follow up is very essential but do it politely, systematically and professionally.
WRONG: Self confidence is the only needed strength; RIGHT: Self confidence can be harmful if you are not well prepared.
WRONG: No one is perfect and we all do mistakes; RIGHT: True. But please do not repeat the same mistakes.
WRONG: Contacts are available everywhere. Just open the directories and call people; RIGHT: Directories are important to find the contact details of specific people or companies. Referrals from satisfied clients are the best sources of Sales.
WRONG: Cut the prices and clients will run to you; RIGHT: A cheap price reflects a cheap product. Give value to what you are offering. People are willing to pay fair enough when they see good quality and great service.
WRONG: Assessments and reports are a burden and a waste of time; RIGHT: Without proper measurement nothing can be improved.
Albert Einstein says: "Insanity is doing the same thing over and over again and expecting different results." So what were the wrongful actions or beliefs holding you from the right expansion?
Jade W. Dagher
Business & Wealth Strategist
Certified Management Consultant ©
+35795568425
jade@expandstrategies.com
www.expandstrategies.com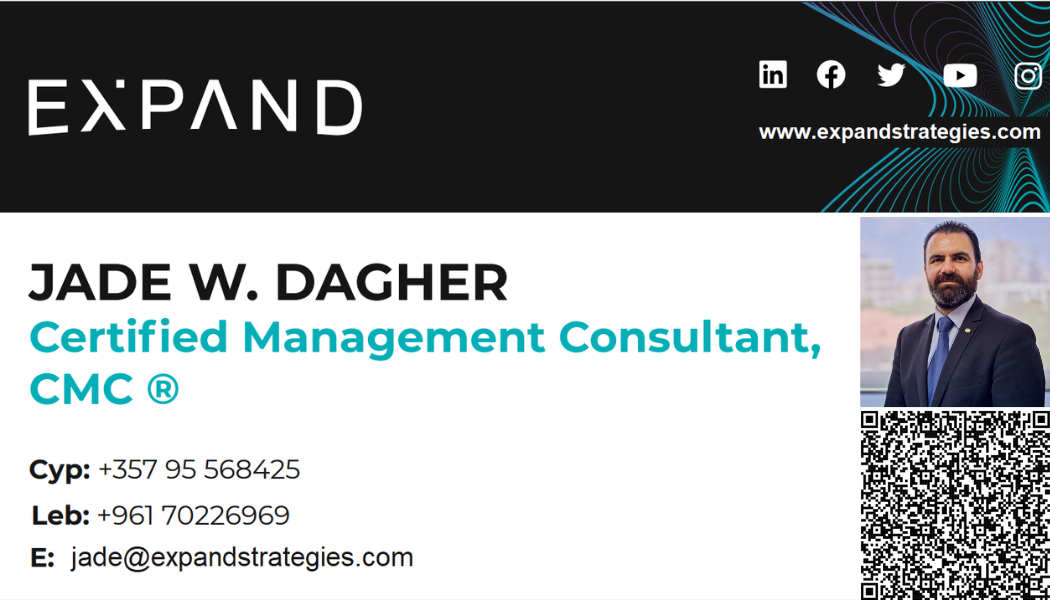 ​