People often lose their motive in the business. Below are main reasons behind that fact:
Wrong clients: the most common problem to de-motivate you is the wrong client. One that has opposite values to you and will always make you feel that you are over stretching your limits while never satisfying his/her needs.
Wrong team: when you work with the wrong people, you spend your energy in the wrong place…Technically trying to motivate them instead of focusing on the team's productivity.
Wrong suppliers: even if you've got the right clients and the perfect team, after all a missing product can stop all your process and negatively impact your image towards the public.
Wrong process: companies grow and the process has to match each level accordingly. Sometimes the old process is good but simply not up to date with the new environment. Think of it like a software update to your phone.
No plan...the root cause of all business problems. No plan, no analysis, no problem spotting, no problem solving…
No profit: even if you make a growing sales turnover, after all it's your level of profitability that makes the difference at the bottom line.
Not enough cash flow: yes, you can be making good profit but still run out of cash for different reasons. Monitoring your cash flow cycle is key in this regard.
Bad behavior: you might have the perfectly skilled team but with the wrong behavior you never get things done properly or on time.
Tough unfair competition: we are living in a world where the standards of ethics and values have been lowered to the very minimum. Even rules and regulations are now always playing a good role in this regard. The key here is not to always fight back but to really swim smoothly in the blue ocean.
A lot of time pressure: that's probably a symptom that something is wrong. It might be all of the above or at least one of them.
It's time to diagnose your business.
Jade W. Dagher
Business & Wealth Strategist
Certified Management Consultant ©
+35795568425
jade@expandstrategies.com
www.expandstrategies.com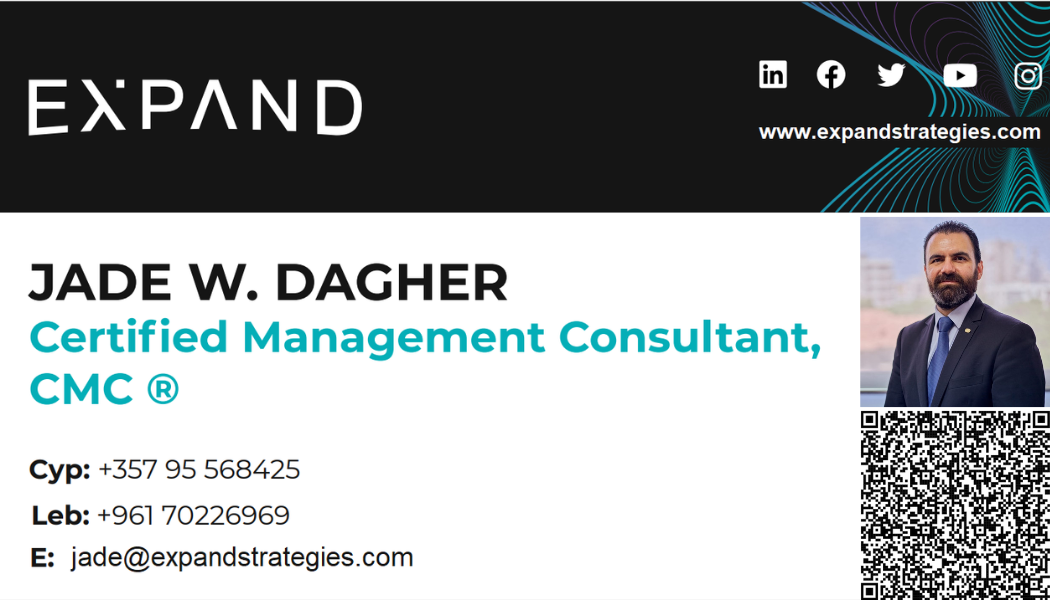 ​