In a world where economies are shrinking, crisis is shaking and poverty is increasing, most people are looking for a potential solution to hang on to their lifestyle. The very common solutions are: joining a solid multinational company, leave the country or open your own business.
Each option is a good option but looking at the end result on a national level, we can always deduct that opening your business brings the best results for all stakeholders:
The entrepreneur usually enjoys a better lifestyle than an employee (provided the planning is correct)
The national economic/cash flow cycle will turn positively
Each project has a potential to employ some people in each area and create future job opportunities for their children
The family business will create interesting bonds between family members; provided roles are well split and organized
If startups open in rural areas, then less immigration will happen to cities
People will explore their full potential in their own business compared to when they are employed; they are more passionate to go the extra mile
Customer service, generally speaking, will become better in that country because it will be done by entrepreneurs who fight to keep that client instead of being a burden on the shoulders of a complaining employee (unless that employee is part of very well-structured company that highly focuses on the best customer treatment)
Small businesses naturally grow and become bigger and thus will employ more people, generate more cash flow and thus keep growing the economy at all levels
Small businesses are more open to innovations that can make a big impact on the society
Small and medium enterprises are more flexible and more likely to adapt to economic changes
Local entrepreneurs tend to utilize all their resources or even push for utilizing dormant resources: shops, lands, vehicles, equipment, etc.
The more they succeed the more they will use other parties or suppliers: travel, taxi, hotels, imports, exports, telephones, fuel, etc.
The benefits of family entrepreneurship are endless on both the emotional and economic levels especially that families are the core of the society; so, the better the wellness of the family, the more the society will be flourishing at all levels.
Most people don't like family businesses because of the clashes they create. But the main problem is that they missed planning and organizing those businesses from the beginning.
Treat a family business professionally and it will surely give you results beyond your expectations.
Are you ready to establish or to expand your family business?
Jade W. Dagher
Business & Wealth Strategist
Certified Management Consultant ©
+35795568425
jade@expandstrategies.com
www.expandstrategies.com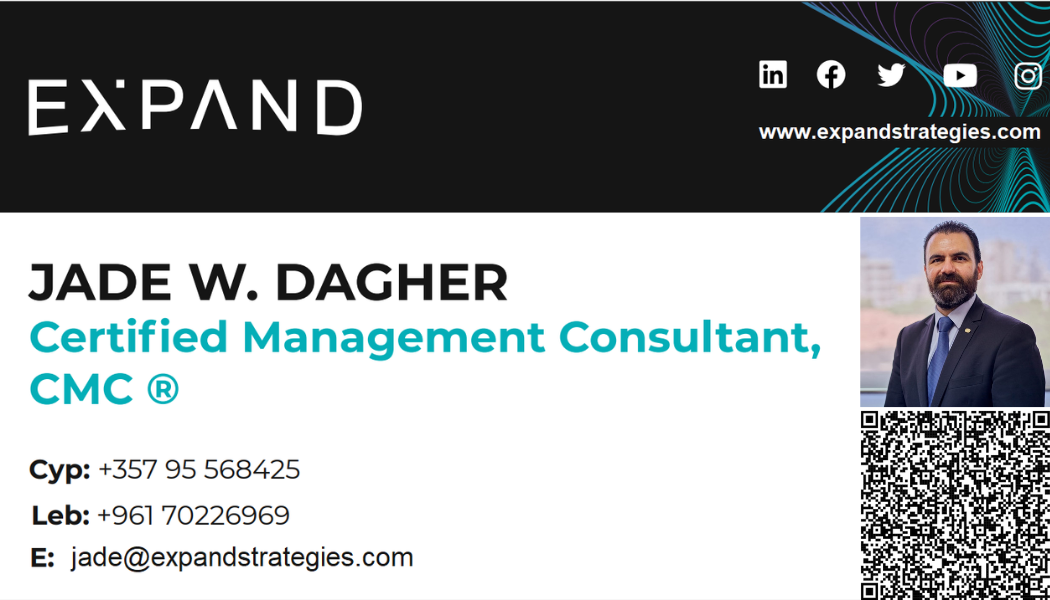 ​